Happy President's Day! Â The weather in Denver today was beautiful. Â A friend called and asked us to go to Westlands Park out south. Â If you are from the Denver area and have never been to Westlands I highly recommend it. Â It is a kid's dream park with tree houses, slides, rock climbing, you name it – a perfect park for all ages.
I feel the need to preface this blog entry with an apology. Â I received TWO emails last week about my dwindling wit. Â One happened to be from my husband. Â He said that my recent posts haven't had him spitting his soda at the screen in hilarious laughter. Â The other email was from a very kind reader wondering if I was depressed because all of my posts had taken on a more serious tone. Â She told me to ditch the citizen journalist act and go back to being a slap-happy mom. Â 
OK, I will, but I just have one more serious post in me. Â This one is worth the read, I promise.
I witnessed something quite remarkable at the park today.
This is Alex. Â Alex is an 11 year old entrepenuer and philanthropist. Â 
I asked his father for permission to take his picture and write about him in my blog. 
I was really impressed by this young fellow. Â When I first spotted him he was making balloon animals for a few kids.
  
Within a few minutes he had a line of patient children waiting! Â 
In chatting with his proud father, I learned that Alex had once seen a balloon artist and thought he might like to try it himself. Â He very quickly learned all the basic balloon figures and one day, when he was practicing his balloon art at the park, several children approached him to make balloons for them. Â This gave Alex an idea!
Today, Alex was in business. Â Just look at how quickly the line grew!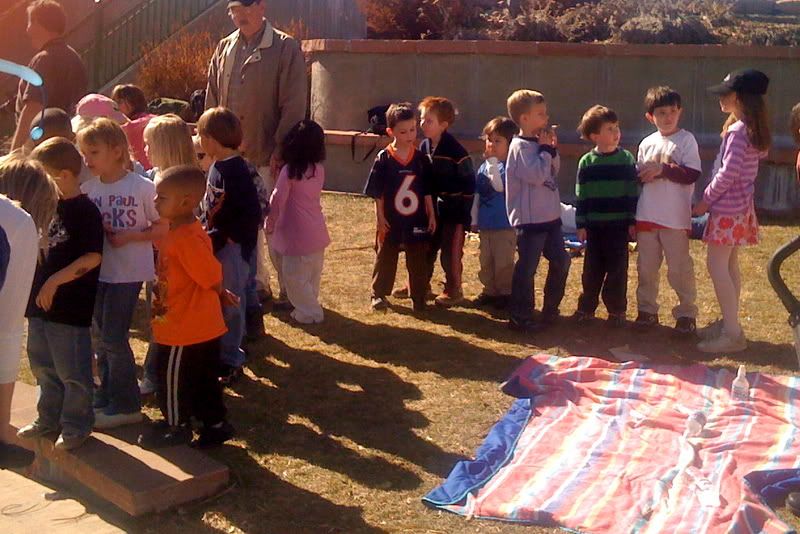 The children were all lined up patiently. Â Geeze, no pushing, shoving, hitting! Â They all waited their turn…. patiently!
Alex was making balloons for free but was accepting tips. Â He was contributing 50% of his tips to Children's Hospital.
 I ran to my car and gave my kids a few dollars to tip Alex the Balloon Boy.  Of course, they chose to have swords made.  Couldn't be something nice like a dog or a hat.  Must have fighting weapons, argggg!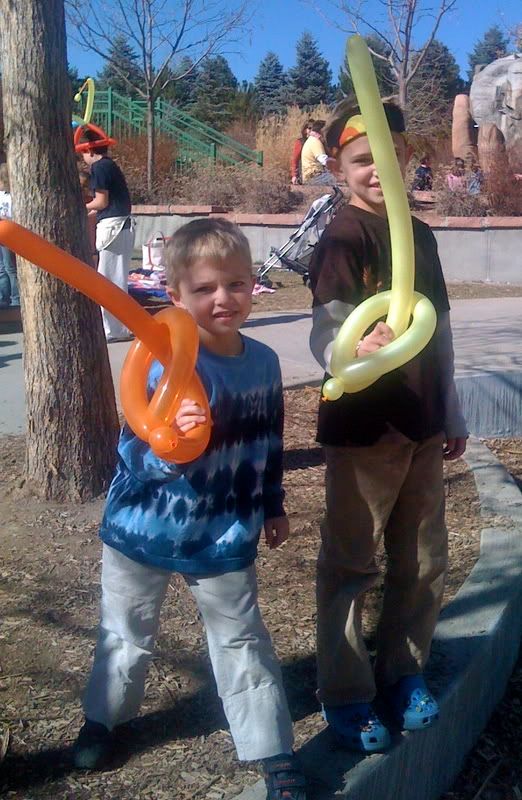 I have read countless lists and articles that point to the benefits of charity and community service in creating confident and empathetic children. Â My children are 8,6, and 3 and, while my husband and I give faithfully to several non-profits that are important to us, I often wonder how well I'm doing in helping my children to see the importance of helping others. Â 
My children understand the importance of helping the earth by recycling and not being wasteful.  We also visit and deliver items on the current needs list for 
The Gathering Place
 in Denver.  We shop for and deliver toys and books to the
Ronald McDonald House Charities
 every Christmas.  
There are so many reasons and ways to give. Â Explore your local area non-profit organizations. Â Many of them accept donations of unused toys and books, toiletries, and other items. Â Even in tough economic times there are ways that we can find to give and help out within our communities.
As my children grow older I am beginning to think of more experiential ways that our family can give and help within our community. Â I know that my readers will have excellent suggestions, so please share!
I think that today, this boy Alex, experienced one of those days that will help to shape who he is. Â He gained confidence and social skills while honing his balloon art talent. Â He had excellent customer service skills, asking each child what color balloon they would like and then handing over the finished product with a smile. Â He accepted tips graciously and, I dare say, he made quite a bit of pocket money and, at the same time, he will proudly hand over a sum of money to a foundation that he believes in.
By the way, that foundation happens to be
Children's Hospital Foundation
. Â To find out more about the Children's Hospital Foundation or to make a donation please click on the link below:Â 
When we got home today my boys proudly showed off their swords and told Dad about this boy at the park who was making balloons and giving money to Children's Hospital. Â That was very cool…. Â Thank you, Alex!